Canon MP Navigator EX Setup Software Download for Mac and Windows OS. This application software allows you to scan, save, and print photos and documents. You can also edit images, or attach images to e-mail using this application software.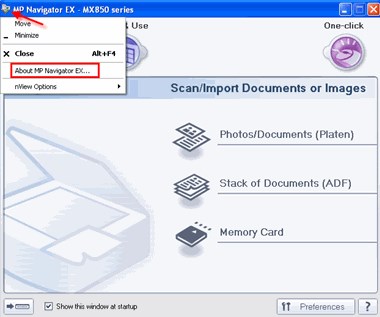 Operating System Support
Windows 10 (32bit) Windows 10 (64bit) Windows 8.1(32bit) Windows 8.1(64bit) Windows 8(32bit) Windows 8(64bit) Windows 7(32bit) Windows 7(64bit) Windows Vista(32bit) WIndows Vista(64bit) Windows XP SP2 or later
OS X Snow Leopard v10.6.8 OS X Leopard v10.5.8 OS X Tiger v10.4.11
MP NAVIGATOR EX VER. 4.1.4 (WINDOWS 10/10 X64/8.1/8.1 X64/8/8 X64/7/7 X64/VISTA/VISTA64/XP)
Filename: mpnx_4_1-win-4_1_4-ea23_2.exe
Size: 47.50 MB
Download Now
How to SETUP for Windows?
Download / Installation Procedures
Download the file. For the location where the file is saved, check the computer settings.
Double-click the downloaded EXE file to decompress it, and then installation will start automatically.
---
MP NAVIGATOR EX VER. 3.1.3 (OS X 10.4/10.5/10.6)
Filename: mnve_3_1-mac-3_1_3-ea8_2.dmg
File Size: 34.33
Release Date: 01/30/2018
Download Now
SETUP for Mac
Procedures for the download and installation
Click the link. The download will start automatically.
Files will be saved on the computer desktop.
Double-click the file to mount the Disk Image.
Double-click the mounted Disk Image.
Double-click the .pkg file in the folder
Installation starts automatically.